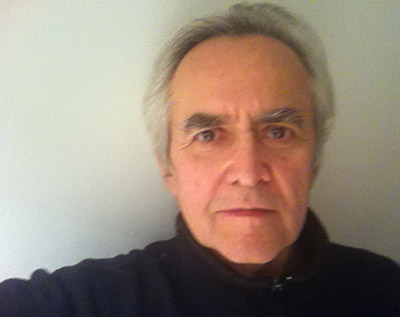 Maker is a term I decided to use to describe my being—artist, designer and craftsperson—all part of the same landscape, but maker has a broader stroke. It has more to do with creating in new frontiers as opposed to renovating an existing reality.
For more than 30 years, I have reached, played, transformed and transferred my sense of what is real, what is now and what is why. I have made objets d'art for the body, the home—as heart and soul. Decorating the soul is a
new frontier, it is a space where everything is real, everything is alive and perspective doesn't exist—it just is.
Having received recognition in the mainstream press has fueled my courage to explore different ways to make waves and try to ride them. All in all, making what I see and seeing what I make is a priceless experience...the struggle has its rewards.
Over the years my art has been available in major museum shops and leading design stores. My work has become part of many major collections of modern art. Overall, the past, present and future is a goal I hope to express in my work—to strive for a timeless quality.
Jerry Kott
• Isadora/Paris, France
One man show in this art/design gallery
• Hair
Exhibition at the Cooper Hewitt/Smithsonian Museum of Design
• Gallery 91/New York, NY
Participated in various group artist/designer shows
• Clodagh, Ross and Williams/New York, NY
One man show in this art/design gallery
• Jewelry Now
A collaborative exhibition organized and funded by The Hand Workshop in Richmond Virginia and the affiliate program of the Virginia Museum of Fine Art, Richmond, Virginia.
• 397 Chairs/IDCNY/New York, NY
Show of chairs by artists and designers at the
International Design Center of New York
• Seibu/Tokyo, Japan
One of ten American artists chosen to exhibit work

• Accent on Design Award/1993
For design excellence and pioneering in the design field.

• JDN/NYDesign 2001/Gifu, Japan
Exhibition of contemporary design where East meets West.

• Benchmark/2004
An invitational exhibit dealing with the concept of "the bench" which took place at Longhouse Reserve in East Hampton, NY. The Longhouse Foundation was created by the noted textile designer Jack Lenor Larsen. Please visit http://www.longhouse.org/.

• Haute Green/2006 + 2007
An internationally juried exhibition of sustainable contemporary design held in Williamsburg, Brooklyn and Manhattan.
Mr. Kott's work has appeared in the
following publications:
•American Craft
•Atlanta Magazine
•Casa Vogue
•Chesapeake Home
•Coastal Living Magazine
•Cool Green Stuff—a book documenting
the pioneers of sustainable design internationally
•Craft Report
•Dwell Magazine
•Elle
•Felissimo Catalogues
•Food & Wine
•Gourmet
•Harper's Bazaar
•HG
•Home
•Horchow Collection
•ID
•InStyle Magazine
•Interview
•LA Magazine
•Marie Claire

•Metropolitan Home
•Museums New York
•Newsday
•New York Magazine
•Niche/American Style Magazine
•Sierra Club Magazine
•The Nest
•The New York Times
•The New York Times Magazine
•The Philadelphia Enquirer
•American, French and German VOGUE
•W
•Woman's Day
•Women's Wear Daily
•High Touch—a book documenting
contemporary designers
•397 Chairs—a book published by
IDCNY documenting the exhibition of
the same name.
•Various Japanese publications
•Work mentioned in Bret Easton Ellis's
novel American Psycho
•Apartment Therapy/Slinks.com
•mentioned on many blogs globally such as:
Designboom, Inhabitat, Treehugger,
Design Sponge and Luxist